PERFORM TO YOUR MAX EVERY TIME YOU HIT THE GYM WITH THE PERFORMAX LABS PRE WORKOUT STACK.
WHAT IS THE PRE WORKOUT STACK?
The Pre Workout Stack injects your mind and muscles with the essential nutrients they need to maximize performance in the gym or on the field of competition. Featuring our top-ranked, clinically-dosed stimulant pre workout HyperMax-3D alongside our supreme blood flow enhancement stim-free pre workout, VasoMax, the Pre Workout Stack is the consummate pre-training stack for serious athletes.
WHAT'S IN THE PRE WORKOUT STACK?
HyperMax-3D is pre workout perfection. Seamlessly combining high powered stimulants with focus-boosting nootropics, performance-enhancing nutrients, and pump inducing ingredients like 3DPUMP-Breakthrough™ HyperMax-3D gives athletes the complete pre workout experience.


VasoMax amplifies the increased NO production and muscle pumps of HyperMax-3D with its own dose of 3DPUMP-Breakthrough™ along with the inclusion of standout blood flow enhancement supplements VASO6®, S7™, and Nitrosigine® and more.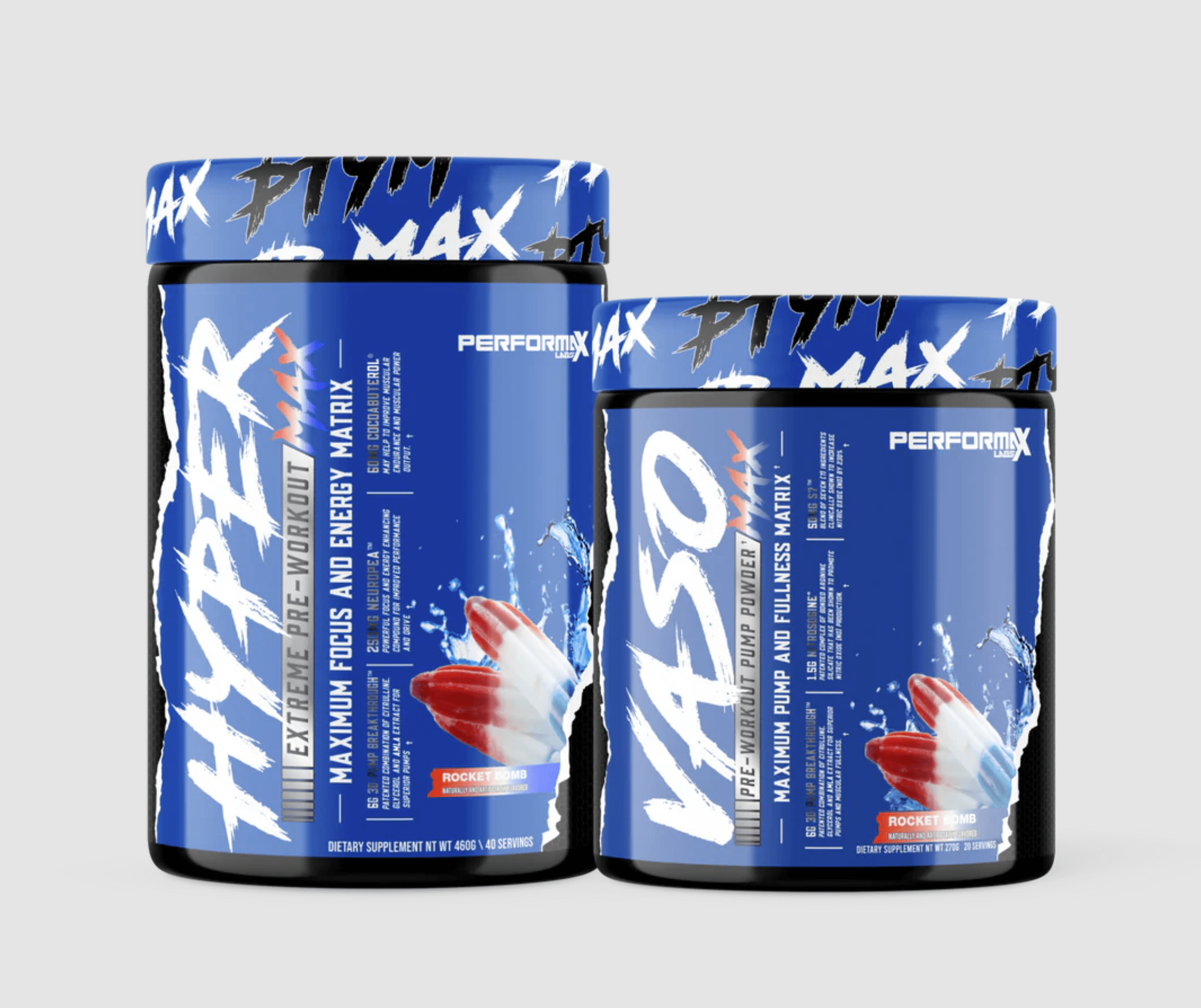 Product Details
Brand: Performax Labs
Goal: Improve Workout
Main Ingredient: L-Citrulline
Form: Powder
Servings Per Container: 40
Serving Size: 1 Scoop (11.5 grams)
EXTREME PREWORKOUT
Maximum Focus & Energy Matrix
HyperMax has been firmly entrenched as one of the premier pre workout supplements on the market, delivering on all facets of pre workout perfection -- energy, focus, pumps, and performance. Over the years, we've made subtle tweaks and refinements to the formula to continue to provide the best pre workout on the market, bar none. The all-new HyperMax-3D retains all of the elements that catapulted it to the top-ranked pre workout supplement along with the addition of some new agents to further enhance performance and pumps.*

Headlining the new HyperMax-3D is the Pumps & Performance blend featuring the the groundbreaking pump ingredient -- 3D Pump. 3D Pump is a patented mixture of L-Citrulline, Glycerol, and Amla fruit to enhance nitric oxide production, cellular swelling, vasodilation, and muscle pump. To further support nitric oxide production, blood flow, and nutrient delivery, we've added in an additional 3,000mg of L-Citrulline as well as 50mg of S7, which improves the bioavailability of nitric oxide.*

Rounding out the Pumps & Performance blend is the tried and true combination of betaine anhydrous and beta alanine, both at their research-supported doses. Beta alanine improves hydrogen ion buffering, helping muscles to resist the onset of fatigue, thereby allowing for more work to be done (i.e. more gains.) Betaine anhydrous is a potent osmolyte that enhance cell volume and hydration, which improves fatigue resistance, athletic performance, and muscle fullness.*

Our Energy & Focus Matrix isn't just some outlandish cocktail of "gray area" stimulants. We've tested, refined, and obsessed over each and every one of the ingredients (and their requisite dosages) to provide an energy, mood, focus, and motivational experience like none other.*

As with all great pre workouts, HyperMax-3D is founded on a robust dose of caffeine anhydrous -- the "king" of all psychostimulants. But, that's only the beginning. We've also included both fast-acting and long-lasting PEA compounds in ThinFen & NeuroPEA, which provide an acute burst of motivation and energy coupled with long-lasting euphoria to power you through workout and help you get s*** done the rest of the day as well.*

We've also included a full 2,000mg of L-Tyrosine -- an amino acid that serves as a "building block" for important neurotransmitters and catecholamines, including dopamine and noradrenaline. Providing the "finishing touch" on our Energy & Focus matrix is the powerful trifecta of Cocoabuterol, Citrus Aurantium, which are included to further heighten mental energy, giving you the ability to push for that "sixth gear" in your workouts when it's needed.*

HyperMax-3D is renowned as much for its energy and focus as it is pumps and performance. Collectively, this makes HyperMax-3D an unparalleled pre workout delivering an experience sure to have you crushing PRs each and every workout
Product Details
Brand: Performax Labs
Goal: Increase Pump
Main Ingredient: 3D PUMP Breakthrough™ (L-Citrulline (vegan fermented), Glycerol, Amla (Emblica officinalis) fruit extract) - 6,000mg
Form: Powder
Servings Per Container: 20
Serving Size: 2 Scoops (13.5g)
PRE-WORKOUT PUMP POWDER
MAXIMUM PUMP & FULLNESS MATRIX

VasoMax is the ultimate pre workout pump supplement on the market formulated to enhance vasodilation, blood flow, cellular swelling and pumps from multiple fronts.*
Priming the pump in VasoMax is the standout, breakthrough nitric oxide and cell volumizer -- 3D Pump. 3D Pump contains a patent-protected mixture of L-Citrulline, Glycerol, and phyllanthus emblica to encourage nitric oxide production, blood flow, and cellular swelling.

We further dialed up the "water-fueled" pumps with a sizable 2,000mg of L-Taurine -- an amino acid that encourages cells to absorb more water, improving muscle fullness, endurance, and fatigue resistance.*

Up next is a pair of premium branded ingredients in Nitrosigine® and VASO6®. Nitrosigine is a combination of arginine, silicate, and inositol which has been shown to promote nitric oxide (NO) production for improved blood flow, focus, and energy. It works in combination with citrulline to increase arginine levels. Arginine is the "fuel" for nitric oxide production. VASO6 is a patented green tea extract that supports increased NO production by activating eNOS -- the enzyme that catalyzed NO production, leading to greater endothelial-dependent relaxation (EDR).

To round out the comprehensive nitric oxide support system contained in VasoMax, we've included a pair of potent antioxidants in Glutathione and S7, which improves the bioavailability of nitric oxide, thereby promoting stronger, longer lasting muscle pumps!*

Far too often, pump formulas are nothing but some underdosed mixture of citrulline, arginine, and glycerol monostearate. VasoMax utilizes a multi-tiered approach to improving nitric oxide production, blood flow, and cell volumization to deliver an unparalleled pump pre workout supplement offering stronger, harder, longer lasting pumps!