PRODUCT DESCRIPTION
The Most Insane Muscle Pump You've Ever Experienced….THIS Will Test Your Skin's Elasticity And Put It To The Test
A POWERHOUSE OF PATENTED PUMP ENHANCERS!
Carnage Bloodlust Pump is unlike any pump enhancer you've ever tried. It's like going from a Ford Focus and jumping directly into a Lamborghini Veneno while blindfolded. It's scary and fun all at the same time. It's like losing your virginity to a supermodel, and now everyone can't stop staring at you. Now, take all of that and enter yourself into the gym.

People are going to look. Heads are going to turn. You'll even find yourself doing a double-take in the mirror, unsure if what you're seeing is legit. Just be prepared because your life is about to change. The pump is going to be so severe, so nasty that you may need to hold back the frightened look on your face as you'd swear your skin was about to burst.

Oh, and about that pump. It should be noted that Carnage Bloodlust Pump doesn't just pump up the muscles you're hitting in the gym — it's good for "down there," too. So, about losing your virginity to a supermodel that we spoke of… it may just become a reality. Yeah, you're welcome.

*WARNING: The muscle pump attained through this product may be too intense for some.

Intense Muscle Pumps
Clean Energy & Endurance
Boost Nitric Oxide Production
Increase Muscle Strength
Cognitive Enhancement & Focus
Amplify Blood Flow and Nutrient Delivery
Increase Muscle Recovery
Full Disclosure Label
Patented Ingredients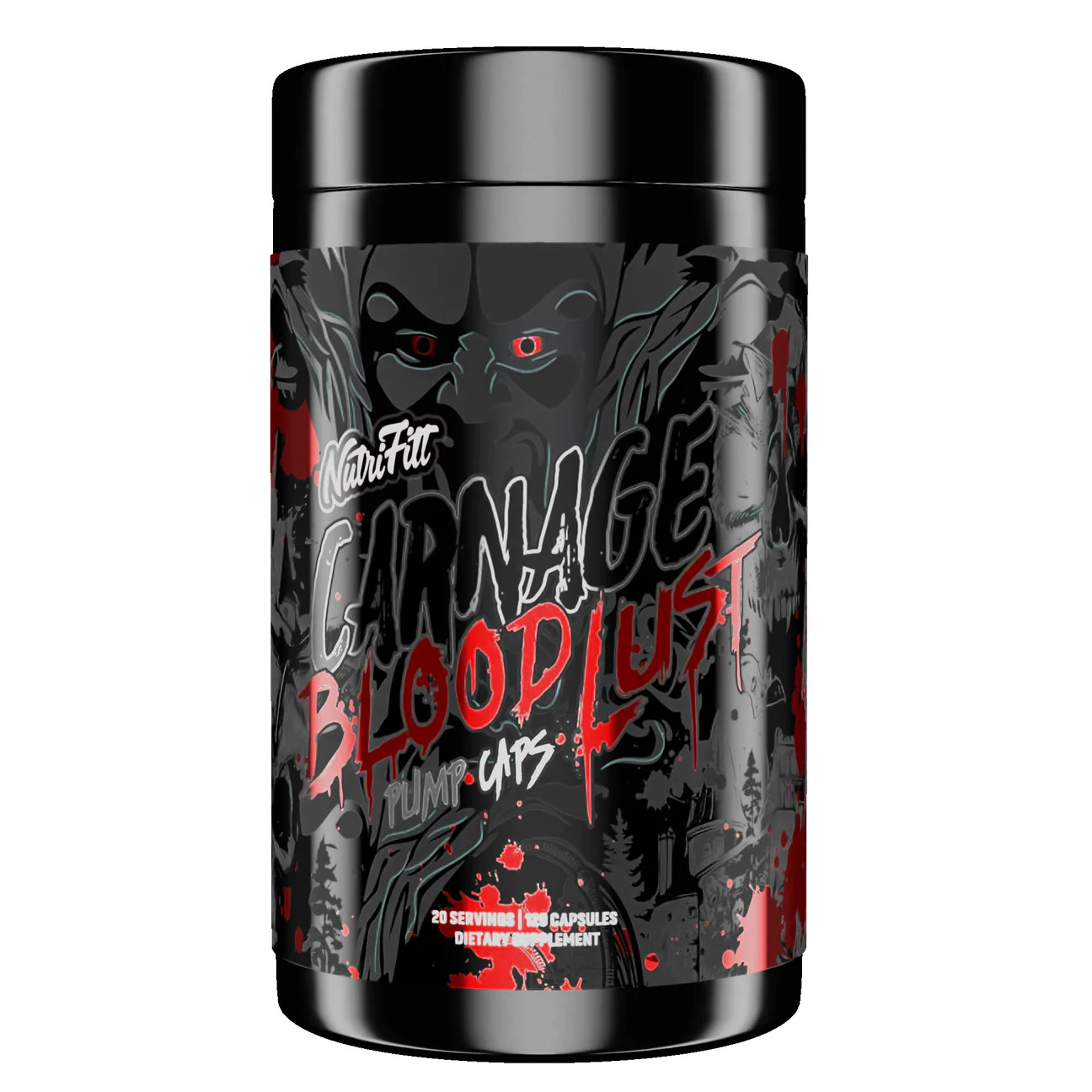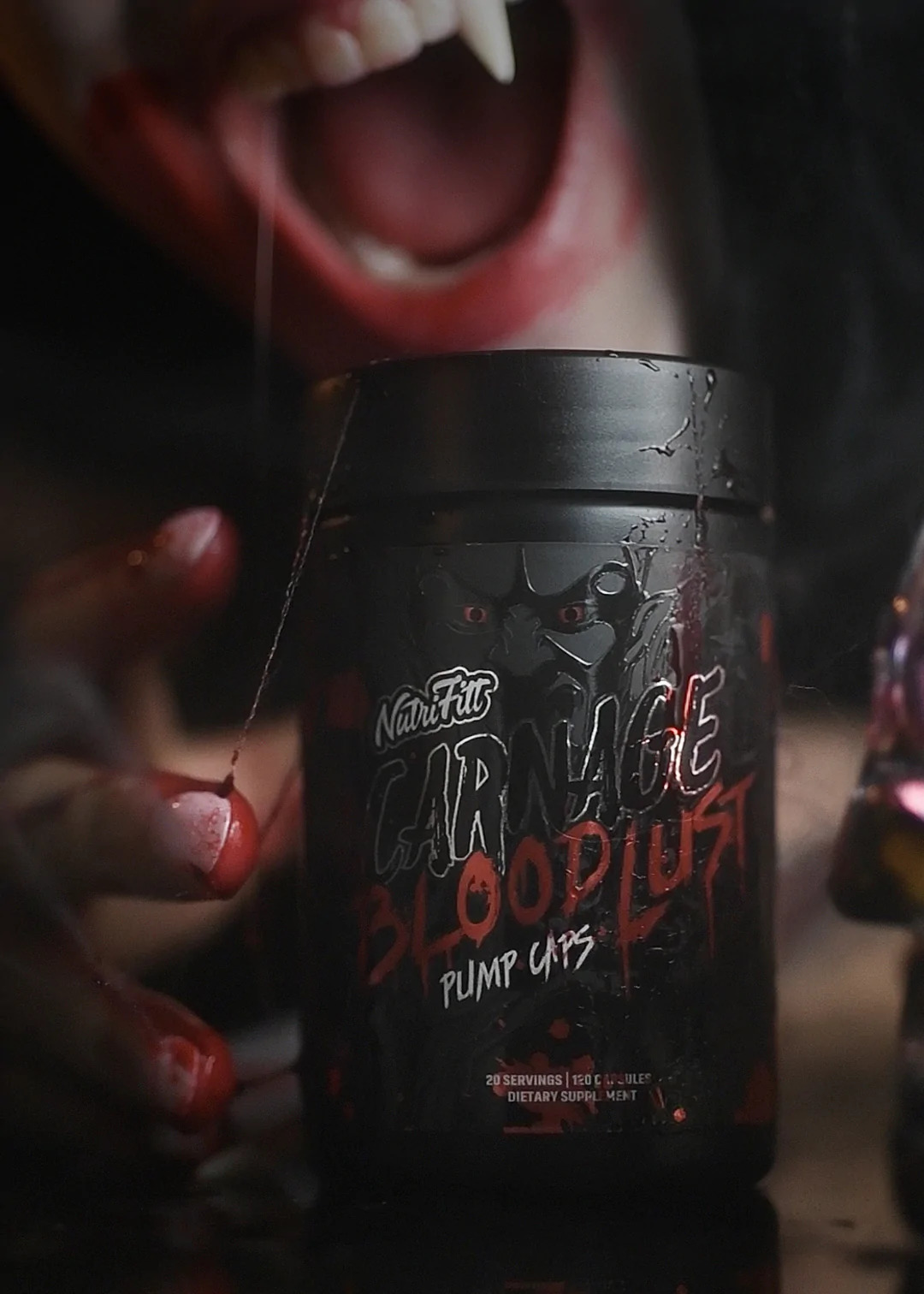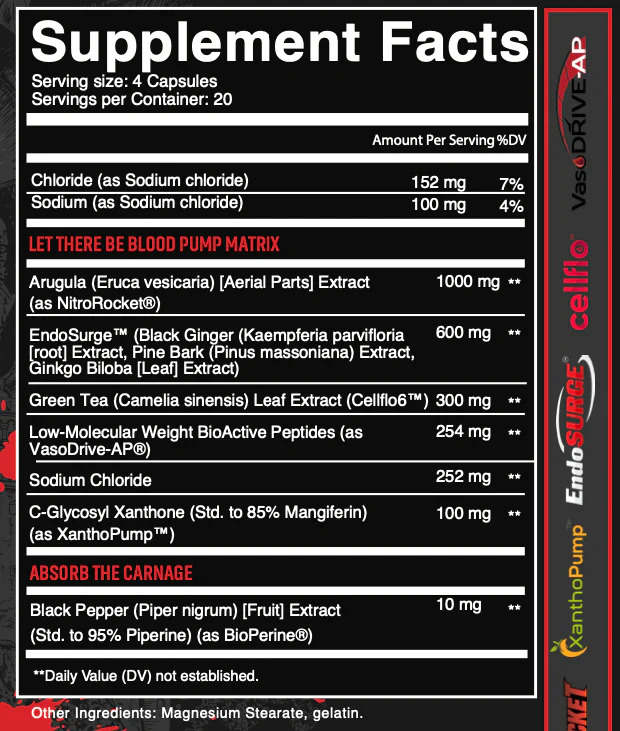 PRODUCT DETAILS
NutriFitt Full Disclosure Label
All NutriFitt products feature a 100% fully transparent label, so you can feel comfortable knowing exactly what you are putting in your body. No proprietary blends and no mystery doses. Each active ingredient is clearly stated, which allows you to purchase and use our products with complete confidence.

1000mg
NitroRocket®
A patented Arugula Extract with a host of benefits, NitroRocket is a true powerhouse when added to the potent formula already found in Carnage Bloodlust Pump. When you demand the most insane pumps, as if helium was injected into your muscle, NitroRocket can help you accomplish that. With increased blood flow that helps oxygenate muscles, cognitive enhancements, and a reduction in inflammation, NitroRocket wears multiple hats to help you get the most out of your training and recovery.

600mg
EndoSurge™
This trademarked ingredient goes down the list and checks many of the boxes men look for in a pre-workout supplement. Consisting of three very specific botanical extracts, EndoSurge can drastically improve nitric oxide production, blood flow, vasodilation, and antioxidant levels. This remarkable ingredient helps maximize workout performance due to being heavy on Black Ginger kicks things up a notch by helping increase natural testosterone production, maximizing muscle growth and strength, enhancing sexual performance, and boosting libido.

300mg
Cellflo6®
While Cellflo6 is a patented Green Tea Extract, the benefits associated with this ingredient aren't merely to provide you with clean energy. Cellflo6 has been extensively researched and found to help boost energy, aid in muscle recovery, reduce oxidative stress, enhance cardiovascular health, support fat burning, and increase muscle endurance. When used pre-workout, Cellflo6 can help maximize your pump, energy, recovery, and results.

254mg
VasoDrive-AP®
A patented compound that kicks nitric oxide production into overdrive to help enhance muscle pumps while also helping to drastically reduce muscle soreness following workouts. If you chase the pump during your workouts, you'll love the look and feel you can achieve through VasoDrive-AP when you look in the mirror and do a double-take to ensure the person in the reflection is really you.

252mg
Sodium Chloride
To be frank, there's nothing sexy to say about salt. However, it plays a crucial role in your workouts and results. Consuming salt pre-workout can not only help you achieve better pumps by increasing blood volume, but it also helps improve muscle contractions and nerve function. It also plays a vital role as a key nutrient in the body to help replenish lost electrolytes when excreted through sweat. As a bonus, it can help prevent you from cramping up mid-set or diminishing your performance by becoming dehydrated.

100mg
XanthoPump™
Another potent trademarked ingredient meticulously chosen to be added to the formula is XanthoPump. This ingredient is simply another layer of an already stellar formula when it comes to overall performance and muscle pumps. XanthoPump has the ability to help enhance workout performance, improve muscle pumps, boost cognitive functioning, increase strength, and maximize energy and endurance. Research has also shown that the ingredients that make up XanthoPump include anti-oxidative, anti-aging, antibacterial, cardioprotective, neuroprotective, and immunomodulatory properties. This is a true all-in-one trademarked powerhouse when it comes to overall health and workout performance.

10mg
BioPerine®
This patented ingredient can be considered the glue that keeps a formulation together. The active compound has both antioxidant and anti-inflammation properties while also helping to improve the absorption of nutrients and other ingredients. You can only benefit from what you're able to absorb, and BioPerine does the job when it comes to helping your body absorb and utilize supplements. BioPerine may also aid in brain function, blood sugar regulation, and healthy digestion.

SUGGESTED USE
15-30 MINUTES PRIOR TO TRAINING AS INSTRUCTED ON THE BOTTLE. FOR AN EXTREME WORKOUT EXPERIENCE, STACK WITH PRE FITT OR PRE FITT CARNAGE!