It's no secret that Apollon Nutrition makes some damn good tasting protein powder. Hell, our 50/50 Formula-X Protein Blend is constantly discussed as one of the best tasting proteins on the market.
But, we're never satisfied with maintaining success. We're always striving for more -- better products, better flavors, better prices, etc.
With that mindset, we cast our gaze on the supplement industry and zeroed in on a niche of the market sorely in need of the Apollon Treatment.
That niche is none other than egg protein powder.
Yes, there are egg protein powders available. They've been around for years, and some even like to call themselves the "perfect" or "proven."
The reality is that most of the egg protein powders on the market are overly salty and/or "eggy" tasting.
Not any more…
EGG-CELLENT is nature's "perfect" protein done right…the Apollon way!
JUST THE FACTS & NO BS
● 24 Grams Of Protein
● MCT from Coconut Oil
● Transparent Label
● Zero Synthetic Colors
● Gluten Free
Whey protein has been viewed as the "gold standard" for protein powder for decades. And, it's hard to argue with that. Whey protein digests quickly, offers high bioavailability, contains all the essential amino acids needed for muscle recovery & growth and tastes delicious.
But, here's the thing…
Egg protein also is a complete protein, offers high bioavailability, has a high leucine content, supports muscle recovery, tastes great, and digests efficiently.
The BIG upside is that egg protein contains NO LACTOSE, making it the perfect option for those who cannot tolerate even the miniscule amounts of lactose that are in whey protein isolate. Besides, even if you can tolerate dairy well, swapping up your protein sources throughout the day can be beneficial.
If you're ready to expand your horizons and see how a truly egg-ceptional protein powder that's not made with dairy can taste, then grab your tub now and be ready to have your tastebuds blown away!
THE MANY BENEFITS OF EGG PROTEIN POWDER
Protein powder is one of the first supplements an individual will purchase when they're starting to get more serious about their health and fitness beyond the simple going for 10-minute walks and cleaning the crap out of their diet.
And, when it comes to choosing the "right" protein powder, there are a seemingly endless number of options. Far and away, the most frequently purchased protein powder are whey-based protein varieties, such as whey protein isolate or a whey protein blend (such as 50/50 Formula-X which is equal parts whey isolate and casein).
There is, however, another protein powder that is equally affordable, effective, and delicious -- egg protein (considered in many circles to be "nature's ideal protein for humans").
Egg-Cellent™ premium grade pure egg protein is Apollon Nutrition's latest addition to its ever-expanding arsenal of products, and today we're here to expound on the many benefits of egg protein powder.


BENEFITS OF EGG PROTEIN POWDER
COMPLETE PROTEIN
Similar to whey protein, egg protein is a "complete" protein, which means it contains all of the required building blocks (essential amino acids, including BCAAs) your body needs to build and repair muscle tissue, bones, organs, skin, hormones, neurotransmitters, etc.
While whey protein is often advertised as having the highest bioavailability of any protein source, egg protein, in fact, equivalent to that of milk protein.[1] In fact, some previous research has shown that the net protein utilization value (i.e. how effectively your body uses protein) value for egg proteins, whether cooked or uncooked, is higher than that of whey! [2]
Now, don't take this to mean that whey in any way, shape, or form is an inferior protein source. It is in fact stellar, rivaled only by that of egg protein in terms of how efficiently the body can absorb and utilize it.
What this means is that if you're consuming lots of protein each day and looking to vary your sources, some of those whey shakes can be swapped for Egg-Cellent protein shakes without fear that you're putting your recovery or gainz at risk.

LACTOSE-FREE & DAIRY-FREE
As great as whey and casein are, some individuals simply cannot tolerate them (yep, even the extremely clean whey isolates out there). Fortunately, there is another high quality source of protein powder that they can use (and no, we're not referring to those insipid vegan protein powders that taste like dirt and grass clippings).
Egg protein is a perfect option that offers all the benefits of whey (ease of digestion, complete amino acid profile, great mixability) with NO LACTOSE!

LOW IN CALORIES
Many individuals limit how many whole eggs they eat due to wanting to limit how much dietary fat and/or cholesterol they're consuming. Egg protein powder contains minimal amounts of fat, making it a great option for those looking to get the high-protein benefits of eggs while saving calories and fat macros.

SUPPORTS MUSCLE GROWTH & RECOVERY
Building and repairing muscle demands that you consume enough high quality protein each and every day. From protein, our body gets amino acids, which it uses to repair damaged protein (e.g. broken down muscle fibers) and build new proteins (e.g. for growing muscle).
Egg protein is a high-quality source of protein that contains all of the essential amino acids the body requires to build muscle, and egg protein is second only to whey in its leucine content. FYI, leucine is the "king" of amino acids due to its ability to stimulate protein synthesis -- the process that drives muscle repair and growth.

AIDS PERFORMANCE BODY COMPOSITION
Egg protein, similar to whey protein powder, has been found to improve performance and enhance body composition.[3,4] Some animal studies even indicate it may help support fat loss by enhancing beta-oxidation ("fat burning") in the liver.[5]



Apollon Nutrition Egg-Cellent delivers 24 grams of great tasting premium grade pure egg protein powder in two delicious flavors– Chocolate Marshmallow and Salted Caramel. Egg-Cellent is also gluten-free, dairy-free, keto-friendly with no added sugars and no artificial colors.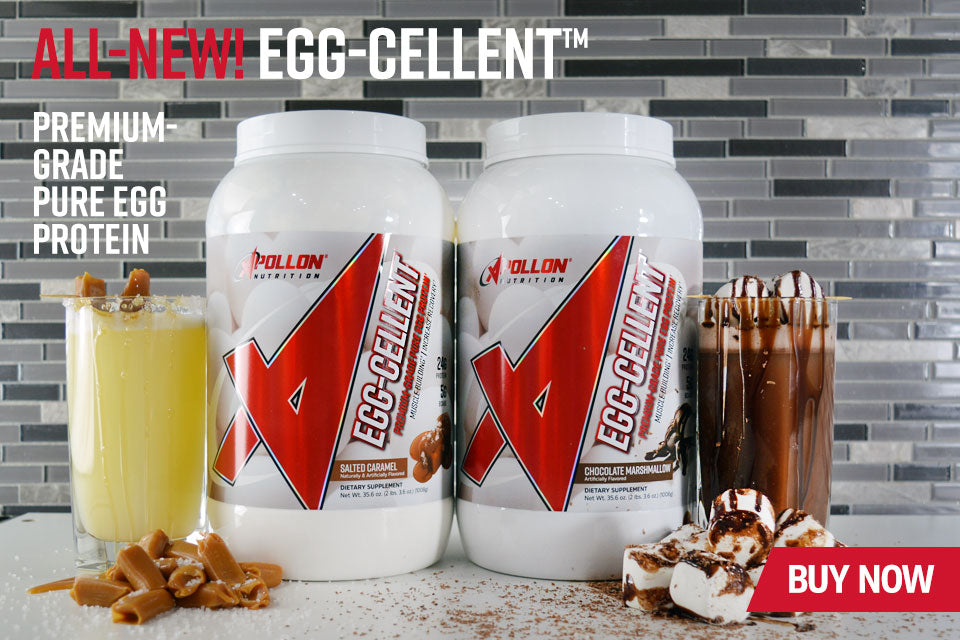 REFERENCES
WHO. Geneva, Switzerland: World Health Organization; 1985. Energy and protein requirements (WHO technical report series, No.724) Report of a Joint FAO/WHO/UNU Expert Consultation.
Matsuoka R., Takahashi Y., Kimura M., Masuda Y., Kunou M. Heating has no effect on the net protein utilisation from egg whites in rats. The Scientific World Journal. 2017;2017:5. doi: 10.1155/2017/6817196.6817196
Hida A, Hasegawa Y, Mekata Y, et al. Effects of egg white protein supplementation on muscle strength and serum free amino acid concentrations. Nutrients. 2012;4(10):1504-1517. Published 2012 Oct 19. doi:10.3390/nu4101504
Bagheri R, Hooshmand Moghadam B, Ashtary-Larky D, Forbes SC, Candow DG, Galpin AJ, Eskandari M, Kreider RB, Wong A. Whole Egg Vs. Egg White Ingestion During 12 weeks of Resistance Training in Trained Young Males: A Randomized Controlled Trial. J Strength Cond Res. 2021 Feb 1;35(2):411-419. doi: 10.1519/JSC.0000000000003922. PMID: 33306586.
Matsuoka R, Shirouchi B, Umegatani M, Fukuda M, Muto A, Masuda Y, Kunou M, Sato M. Dietary egg-white protein increases body protein mass and reduces body fat mass through an acceleration of hepatic β-oxidation in rats. Br J Nutr. 2017 Sep;118(6):423-430. doi: 10.1017/S0007114517002306. PMID: 28980893.